GREYSON SIZE GUIDE

We use True Fit to ensure you get the best fit on any Greyson products. For more detailed info, check out our measurements in inches below.
Have more questions on your size? Email us at info@greysonclothiers.com
HOW TRUE FIT WORKS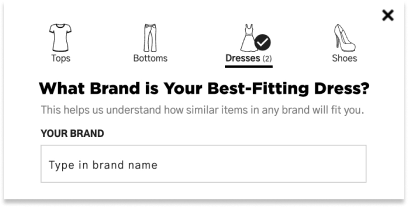 1. Tell us about yourself or the person you're shopping for, and the items you already love.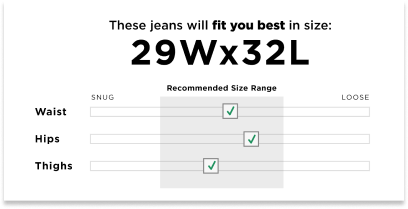 2. Get all your personalized fit info and size for all our items.

3. Find the True Fit icon
when shopping our site to know which size to buy
GREYSON NUMERICAL SIZING
All sizing in inches below.
Measurements are listed in inches. Have more questions on your size? Email us at info@greysonclothiers.com
Menswear
| Alpha Size | S | M | L | XL | XXL |
| --- | --- | --- | --- | --- | --- |
| Chest | 35-38 | 38-42 | 42-46 | 46-50 | 50-54 |
| Waist | 29-32 | 32-35 | 35-38 | 38-43 | 43-46 |
| Hip | 35-38 | 38-42 | 42-46 | 46-49 | 49-54 |
Womenswear
| Alpha Size | XS | S | M | L | XL |
| --- | --- | --- | --- | --- | --- |
| Numeric | 0-2 | 4-6 | 8-10 | 12 | 14 |
| Bust | 32-33 | 34-35 | 36-37 | 38-39 | 40-41 |
| Waist | 25.5-26.5 | 27.5-28.5 | 29.5-30.5 | 31.5-32.5 | 33.5-34.5 |
| Hip | 35.5-36.5 | 37.5-38.5 | 39.5-40.5 | 41.5-42.5 | 43.5-44.5 |
Boys Tops
| Alpha Size | S | M | L | XL | XXL |
| --- | --- | --- | --- | --- | --- |
| Numeric Size | 4-5 | 6-7 | 8-9 | 10-11 | 11-12 |
| Chest | 26-27 | 28-29 | 30-32 | 33 | 33-35 |
Boys Bottoms
| Numeric Size | 4 | 5 | 6 | 7 | 8 | 10 |
| --- | --- | --- | --- | --- | --- | --- |
| Waist | 21.5 | 22.5 | 23.5 | 24.75 | 26 | 28 |
Girls Apparel
| Numeric Size | 4 | 5 | 6-7 | 8 | 10 |
| --- | --- | --- | --- | --- | --- |
| Alpha Size | XS | S | M | L | XL |
| Chest | 22-23 | 23-24 | 25-26 | 27-28 | 29-30 |
| Waist | 21 | 22 | 23 | 24 | 25 |